Online and Happy:
Instruction Tools You Need To Get Started Teaching and Up to Speed!

2014 JOINT REGIONAL CONFERENCE OF THE COLLEGE MUSIC SOCIETY SOUTHERN CHAPTER/ MID­ATLANTIC CHAPTER/THE ASSOCIATION OF TECHNOLOGY IN MUSIC INSTRUCTION
hosted by:
The University of Tennessee School of Music
Knoxville, Tennessee
Presenter: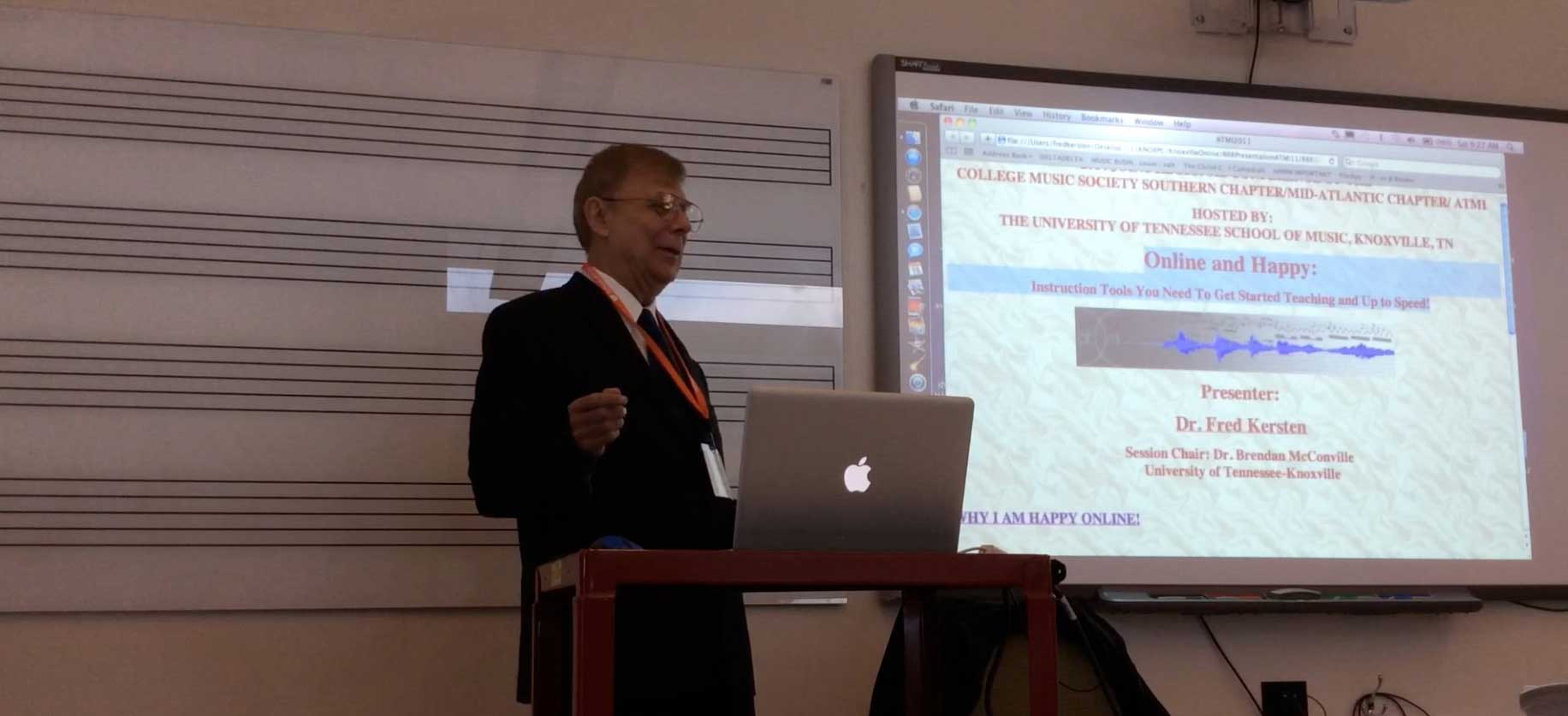 Video of Conference Presentation
*Excited about the challenge of teaching online?? Music technology teaching tools and techniques have become highly sophisticated and provide many wonderful opportunities to communicate with music students via the Internet through your college server/browser.

*This presentation will examine music interaction and instruction possibilities that online faculty can utilize for class management and creative teaching. Among topics included will be: innovative evaluation and assignment techniques, live video conferencing with students, colleague meetings online, whiteboard interaction possibilities, and archiving of teaching sessions for student referral.

*Multimedia assignment considerations will include interactive "voiceovers" for composition musical analysis, and tutorial instruction utilizing Camtasia, SnagIt, and similar screen saving programs. Examples of multimedia student assignments created with Keynote/Powerpoint will be illustrated.

*Interactive performance activities, and online music lessons that can be included as part of your music curriculum will be considered. Websites like noteflight, and musescore will be examined for their contributions to online teaching, as will music article reference sites such as JSTOR. Grading templates, hidden features in your college browser, and available online resources for theory, composition, performance, and music education will be examined.

Abstract
This presentation provides an examination of techniques and tools for effective online music instruction at the college level. Consideration of interaction possibilities through video, audio, whiteboard, online music lessons, and Internet resources will be provided. Multimedia assignments, evaluation possibilities, and accessing of music resources for required reading will be considered.